Heart Safe Protocol for Clubs
Did you know …
Golf courses are the 5th most common place for sudden cardiac arrest?
92% of Sudden Cardiac Arrest Victims die before reaching the hospital
Everyone can save a life so be sure everyone at your facility knows hands-only CPR. It takes less than a minute to learn.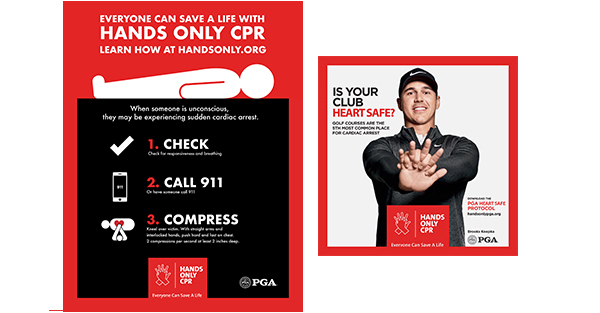 PGA Heart-Safe Protocol for Clubs
Get your club up to par by following this simple protocol:
Download your "Check, Call, Compress" posters and display next to AED's
Have a minimum two AED's at your facility (one in clubhouse and one ready to go on a golf car)
Watch the hands-only instructional 30-second video below at least once a year
Download your Brooks Koepka tent card for your facility
Click here for more information.